Looking for incredible TV shows to watch this year, here is a list of 30 of my favourite shows that will leave you entertained, relaxed and happy to be alive and surviving a global pandemic
30 The Handmaids tale
29 The marvellous Mrs Maisel
This is definitely a light, funny and fabulous watch that will entertain you and your feminine sides, if you are not into shows that are as dark as the handmaids tale. The marvellous mrs Maisel, tells the tale of Mrs Maisel, a New York housewife, trying to overcome gender norms and expectations, while looking fabulous. With incredible style, fashion, comedy, and architecture, the Marvellous mrs Maisel will transform you back in time and you will come to love and support mrs maisel while also getting some really funny stand up comedy, and again really good fashion. It can be found on Amazon Prime and is still ongoing.
28 Ash Vs Evil Dead
Found on Netflix, this show follows Ash and company, as they fight the Evil dead. Imagine a lower budget, more funny, entertaining and sadistic version of The Walking dead, meets Supernatural. That is the best way I can describe this show. Ash is a sexist, occasionally racist and generally unlikeable man, yet I could not stop watching and rooting for him to survive and save the world. A very nice distraction for these times, where we can't do anything but wait.
27 Superstore
Diverse (Check) funny (Check), realistic (Check), entertaining (check), TENS ACROSS THE BOARDS. I don't know if it is the nostalgia of seeing America Ferrera from Ugly Betty or how realistic everything about this show is, but this is an amazing show that will help you ride through some weeks in this pandemic
26 Mozart in the Jungle
An unexpected delight that can be found on Amazon Prime, Mozart in the Jungle, follows Roberto and Hayley (pronounced Hai-ley) a Maestro (Symphony conductor) of the New York Symphony and the symphony members. Think comedy, meets drama, meets romance, all underlined by classical music. Whether or not you are a fan of classical music, you will delight and fall in love with the music, the drama, the comedy and the beauty of Mozart in the Jungle
25 The last man on earth
This was a natural selection especially since we are all currently trying to survive this pandemic. It is a crazy, silly show about a guy who is the last man on earth, after everyone has been killed by a virus, a concept that is not implausible especially in current times. Somehow, Phil survives, without taking any precautions (I know!), and the rest is a series of hijinks that makes you laugh, cringe, and then laugh again.
You might recognise the main character, "Phil" from Saturday Night live. Many of the scenes in the show do come off like a decent SNL sketch, but overtime you will come to enjoy Phil's hijinks and even love him for it. You may find yourself slightly frustrated by the level of stupidity in the show, but entertained regardless. Either way, giving the current viral pandemic, it makes for an interesting watch this year
24 Upload
From the producers of The Office and Parks and recreation, Upload is a funny show about a world where dead people can continue to live and meet their loved ones, by uploading their consciousness into what is essentially a virtual high tech retirement home/a White American guy's idea of heaven. There they have "virtual Angels", kind of like caretakers that watch after them, ensure their needs are met, etc. A young guy ends up uploading his consciousness to it and ….. I don't want to spoil it too much, you can probably guess what happens from the cover pic alone so going any further will give everything away. But it is a nice light, simple, funny show that can help you through a few days of this pandemic
23 Snow piercer
If you've seen the film (which if you haven't, go watch it), then you have a good idea of what this is about. They definitely made some changes to keep you on your toes, and the cast is very good so I highly recommend watching it even if you have seen the film. If you haven't seen the film (Again go watch it). Snowpiercer is about a world in which everything is frozen over and hence everyone living has died, except those who were lucky enough to board the snowpiercer, a train which you guessed it, pierces through snow. I have come to love it even more in the second season and I highly recommend it for an entertaining, yet dramatic watch. It speaks on what humans are willing to do, when they have power, money, and when there are no real rules or consequences. You can find it on Netflix
22 Raised by wolves
Created by Ridley Scott, Sci-fi lovers would love raised by wolves. Another dystopian show that explores the survival of humanity and other entities after the world has been beset by wars. Not much to say but sci-fi and robots galore
21 Corporate
Another great lockdown find. I watched it on Amazon prime, and it is a funny, comedic series depicting life working in a corporate career, and dealing wit the endless, repetitive drones of tasks, HR, and waffle. It will surprise you, addict you and make you laugh in the best ways
20 Good Omens
To be honest, I barely remember this show as I watched it a long time ago, but you really cannot go wrong with David Tennant and Micheal sheen. Basically, one is a demon, the other is an angel and the rest is entertainment
19 Futureman
The only thing I can Really say about futureman is that it is not what you expect. It is even better, funnier and a lot more entertaining than anything you think from just looking at the picture.
18 Utopia
Another British show copied and remade by Americans. For the first time ever (Actually second if you include The Office), I actually like the American version better. Found on Amazon Prime, Utopia is a sci-fi show about "the man", AKA 'they' AKA the real people controlling the world AKA the illuminati. The list goes on. Basically, a group of people obsessed with a comic series, discover the never released second edition called 'utopia' and try to get it, to their detriment(roll credits). The comic predicts the disease outbreaks affecting the world and the people causing these diseases and controlling the world (i.e. America, which always seems to represent the world in these shows), are after them.
Utopia is a really good watch for any fans of sci-fi shows. The British original is great and should also be watched if you are so inclined, but the American version, with a greater budget and great cast, is honestly really good and entertaining.
17 The Haunting of Hill house and the follow up Haunting of Bly Manor
If you are like me and enjoy Horror shows especially when they explore issues that are very relevant in our lives, with great architecture and an even better cast, then you will love the Haunting of Hill House, and Bly manor. I warn you though, once you start watching it is very hard to stop
16 The Good fight
If you watched and loved the good wife, you will definitely love the good fight. Fans of Law shows, procedurals or episodic shows that explores a new case/story in each episode will love the good fight. In our current political climate as well, the good fight explores issues that are very relevant, with a great cast
15 The Chi
Lena Waithe is undeniably a brilliant writer, actress, director etc. and The Chi is more evidence of that. Another show that addresses topics that can be hard and triggering, but in a world where more and more people are finally accepting that #blacklivesmatter. The Chi gives an education into why it is important that everyone accepts and believe this, by showing the generational and community trauma and effects that follows black people in general, but black Americans specifically to this day.
14 Midnight Gospel
I stumbled onto this one on Netflix, and I am honestly very glad I did. It talks about wholesome topics, in a really interesting, funny and occasionally crazy way. I didn't expect to learn anything, and was just looking for a distraction while I write all of my courseworks for my MSc. Not only did it achieve that, but it taught me many things that I know I will carry with me for a long time. It's a great show to watch and even rewatch at a later time, and I highly recommend you watch it.
13 Preacher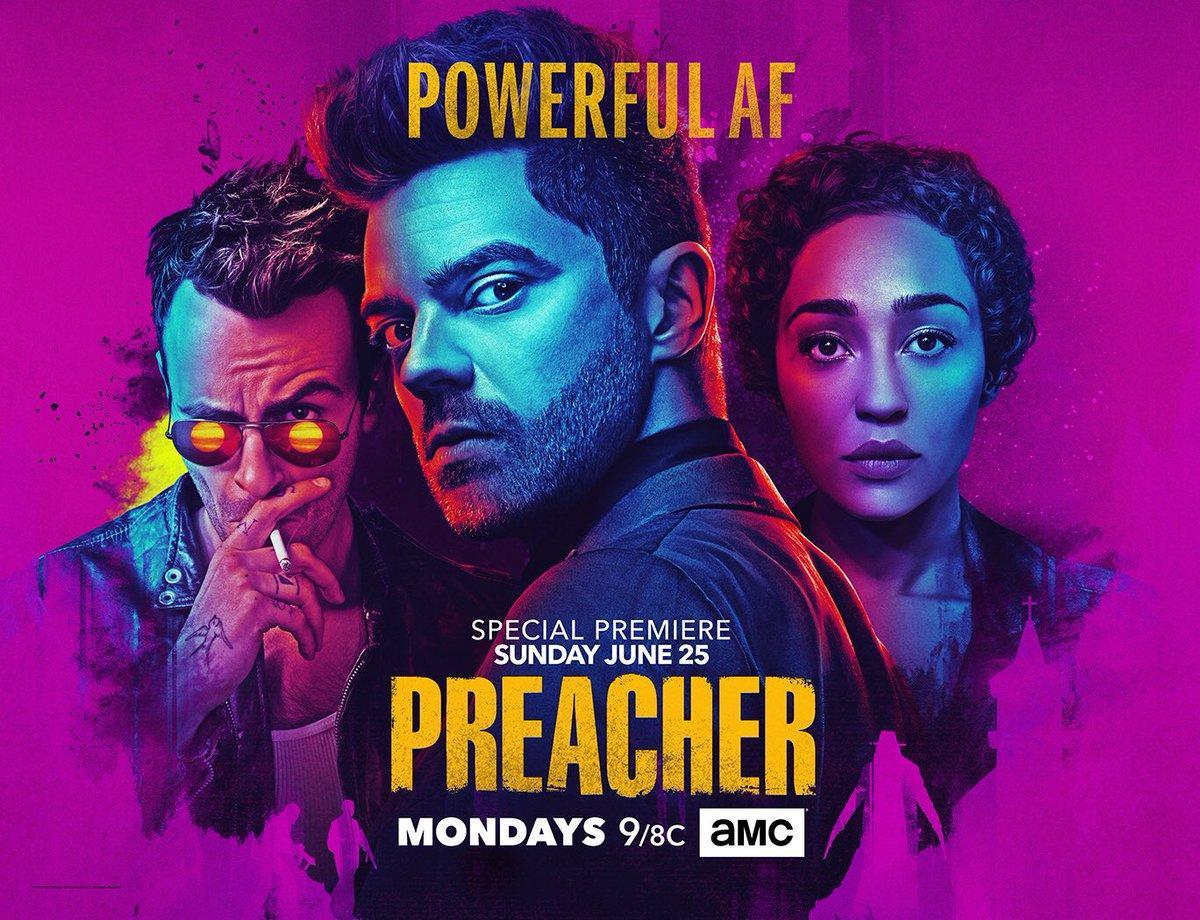 You can probably tell I like sci-fi shows, and shows with a bit of magic, lots of adventure, fun and entertainment. Preacher encapsulates all of my favourite things, in a way that I rarely see. A gem that has sadly been cancelled but will give you an incredible time regardless.
12 Into the Badlands
Lovers of Martial arts and adventure tales would be very happy and satisfied with into the badlands. It has sadly been cancelled, but is still worth a watch and will leave you very entertained and happy to be alive to watch masterpieces like this
11 Westworld
if you haven't heard of westworld yet, then you have been missing out. Some seasons are definitely better than the others, but westworld is a great Sci-fi shows that will make you think, cheer, cry and just be in awe. With a fantastic cast, westworld will leave you very happy to be alive
10. Happy
Such a great, crazy show. Just watch it. Trust me, you will come back later to thank me
9. Harlots
One of the best shows I watched last year, Harlots (found on BBC Iplayer), explores sexism, feminism and racism through the lives of women 'Harlots' in the Victorian era. The cast is perfect and the show is even better. Harlots will leave you happy and satisfied regardless of your gender
8. Avenue 5
Armando iannucci is a really good filmmaker and director, and I highly recommend you watch all of his films and TV shows (Special shout out to VEEP, and The Thick of it, just iconic). Avenue 5 is no different. Sci-fi meets comedy, meets stupidity, together to help you forget about all the horrible things going on in the world right now
7. Doom Patrol
Diversity done right check, unpredictable check, passes the bechdel test check, drama check, fantasy check everything check. One of my favourite superhero TV shows, doom patrol will take you on a wild ride
6. Watchmen
Another fantastic and incredible Sci-fi meets super hero show with an incredible cast (special shout out to Regina King) and a fantastic story.
5 The Boys
Not your typical superhero story, the boys which also includes women, is a show about a bunch of superheroes, who may not be your definition of heroes. It is a funny, dramatic and really well made show and is easily one of my favourite tv shows ever made.
4. Dirk Gently's holistic detective agency
Sadly, in fact very sadly, this show has actually been cancelled. But it will still provide you with 2 blissful seasons of just pure joy and entertainment.
3. Insecure
A brilliant show by Issa Rae, Insecure has held me down and provided light and joy through many dark seasons, so best believe it will hold you down through this pandemic. Starring Issa Rae as Issa, and Yvonne Orji as Molly, insecure is a tale about young black millenial women trying to navigate life and relationships in the 21st century, with all the pitfalls that come with
2 Little fires everywhere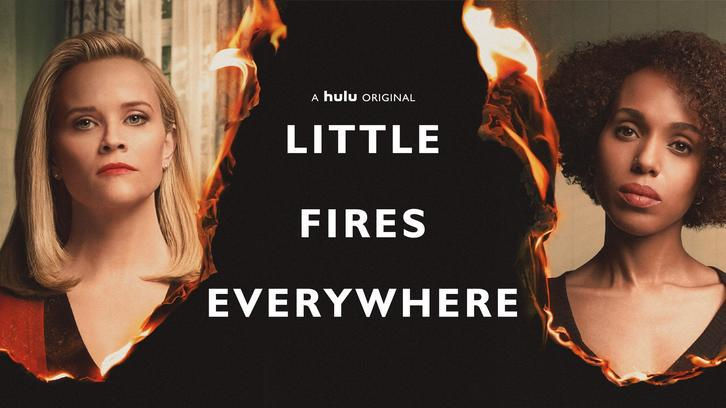 Based on the novel by Celeste NG, Little fires everywhere is a riveting show that explores many complex issues. Ranging from motherhood, to racism, to surrogacy, and privilege. I loved that it shows the interwoven way human beings of different ethnicities and social classes are connected in a community, especially when they dont live that far away from each other, but yet have vastly different lives, worries and concerns that can make them seem so different. The acting was spectacular, I came out of it feeling like I know why the caged bird sings. I think we all do, especially as we keep entrapping ourselves into the cages that we spin. And that was my thought when I saw that ending. I won't spoil it for you, but if you are looking for a complex drama, intersecting race, women's rights, children's rights, and raw discussions about privilege, Then watch this show. the casting is spectacular, and even the child actors, are good. To be very honest, I love this show so much I created this list just to promote it, so go watch it on Amazon Prime
1. Lovecraft country
I stumbled upon this gem after some particularly stressful and difficult weeks at University. I was in need of something to just take my mind off things for a few hours and liked the poster picture. The next 3 hours were a dazzling spectacle of black people trying to escape the racism, bigotry and violence that follow us, in a world of magic and monsters.
The great Jordan Peele (yeah I said it), and The wonderful JJ Abrams teamed up to create this Masterpiece and I cannot wait for the second season
Long story short, Its a really good show and I highly recommend giving it a watch. Trust me. You will not regret it
Hopefully this list should keep you preoccupied, through the endless lockdowns/global pandemic. I hope you enjoyed this post and if you did, feel free to like, comment, share and follow for more like this
Peace and Love,
Raven